As the top COVID-19 swab test provider in Cheras, Kuala Lumpur, we pride ourselves in offering one of the cheapest and most affordable COVID-19 swab tests in Kuala Lumpur and Selangor. With us, we aim to provide only the best, where you can expect both cheap and fast results for your swab test. Walk-in and drive-thru services are available for RTK Antigen and RT-PCR.
Monday – Saturday
(Except public holiday)
9am – 12pm, 2pm – 5pm
Last walk-in: 11.30am and 4.30pm only
Ground Floor, CMC Centre, 
Jalan Cerdas, Taman Connaught, 
55000 Cheras, Kuala Lumpur.

All results sent via email

Walk-in results to be collected on the spot, Drive-thru results sent via WhatsApp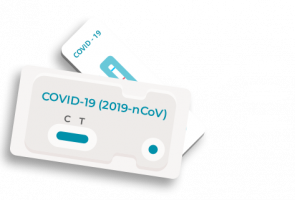 Detect antigen in patient's body
Able to detect Covid-19 virus in the patient's body but is less sensitive
96% (estimate)
Not able to detect virus when viral load is low
24 – 48 hours
Urgent results can be
requested for < 24 hours
Frequently Asked Questions (FAQs)
1. Are RTK Antigen priced at RM70 and RT-PCR priced at RM190 for foreign-workers only?
We offer cheap and affordable swab tests for everybody in Kuala Lumpur (KL) as part of our Corporate Social Responsibility. Our promotional price for swab tests is the same for all Malaysians and non-Malaysians (including babies, children, and senior citizens). Our RM190 Express RT-PCR test (results in 12 hours) in Kuala Lumpur has the cheapest price and the fastest results.
2. Can I make an appointment?
3. Can I walk-in for a swab test?
For walks-ins or drive-thrus, it is best to arrive at 9.00 am, or at 2.00 pm. We will stop accepting new walk-ins and drive-thrus once we have hit our session's limit for the day. 
4. What are the payment methods accepted by Laurent Bleu?
We accept cash, debit or credit card, online bank transfer, and Touch 'n Go e-wallet. 
5. How long will it tale to receive COVID-19 test result?
RTK Antigen result will take 30 minutes – 2 hours. For the RT-PCR test, results will take 12 hours. However, urgent results (<6 hours) can be arranged. 
6. How do I get my result?
For RTK Antigen walk-in individuals, you will have to wait for your results on the spot. For drive-thru RTK Antigen, results will be sent via WhatsApp. For RT-PCR, results will be sent via email. 
7. Do you provide on-site COVID-19 screening services?
8. Is your clinic and laboratory KKM approved?
Yes, both our clinic and laboratory to conduct the swab tests for RTK Antigen and RT-PCR is KKM approved.